By Deb Holland, Black Hills Pioneer
Feb 8, 2022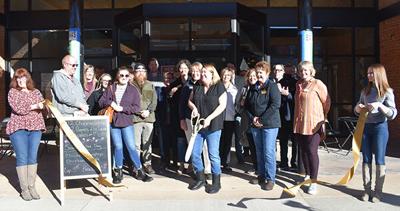 STURGIS — Amy Groves, owner of Emma's Ice Cream Emporium, laughs after cutting the ribbon at the shop at 1063 Main St., in Sturgis Monday.
In addition to 12 flavors of ice cream, shakes and sundaes, the emporium offers soups, sandwiches, breads, coffee, cakes, cookies, cheesecake, chocolates, cookies and more. Groves received a painting of an ice cream cone from the owners of White Canvas Art Co. in Sturgis at the ribbon cutting.
White Canvas also will be hosting a Valentine's Day canvas painting class at Emma's on Friday, Feb. 11 and Monday, Feb. 14. Emma's opened in August 2021 at the start of the annual Sturgis Motorcycle Rally.